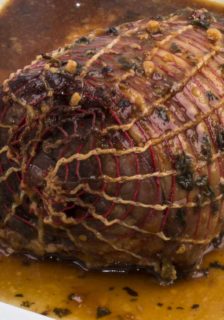 Wild Boar Roast With Wine and Cognac
Yield 6-8
Ingredients
1 3 pound wild boar roast
1 medium onion, coarsely chopped
2 carrots, peeled and cut into 1/4-inch cubes
1 rib celery, cut into 1/4-inch cubes
1 clove garlic, peeled and crushed with the flat of a knife
bouquet garni: 3 springs parsley, 1 sprig thyme, and 1 large bay leaf tied together with kitchen string
6 juniper berries (optional)
salt and freshly ground black pepper to taste
2 to 3 cups full-bodied red wine, such as Burgundy, Spanish Rioja, or Merlot
1 tablespoon red wine vinegar
4 tablespoons (1/2 stick) unsalted butter
2 tablesponns vegetable oil
1/2 cup Cognac (optional)
1 to 2 tablespoons red currant or grape jelly
1 to 2 teaspoons potato or corn starch (optional) for thickening sauce
Instructions
To marinate the meat
Place the marinated meat, onion, carrots, celery, garlic, bouquet garni, juniper berries, and salt and pepper in a large glass bowl.
Pour in enough red wine to just cover the meat and add the vinegar.
Cover with plastic wrap and refrigerate, the longer the better.
Remove the meat from the marinade and pat dry with paper towels.
Cooking Directions
Heat 2 tablespoons of the butter and the oil in a large Dutch oven over high heat until hot but not smoking.
Reduce the heat to medium, add the meat, and brown on all sides, about 15 minutes.
Take the pot off the heat, carefully flambé the roast with the Cognac.
Add the marinade and all the ingredients in it.
Simmer, partially covered, over low heat until the meat is tender, about 1 hour.
Transfer the meat to a cutting board and let rest for 10 minutes before slicing. (It is still cooking as it rests)
Strain the cooking liquid through a sieve, reserving the vegetables.
Discard the bouquet garni.
Return the cooking liquid to the Dutch oven and boil it, uncovered, over high heat to reduce by one third, 5 to 7 minutes.
For the sauce:
Puree the vegetables and cooking liquid in a blender to a smooth consistency.
You should have a thick, full-flavored sauce.
Return it to the pan and reheat it.
Add the jelly and whisk until well blended.
Taste and adjust the seasoning.
To thicken the sauce you can add a little bit of potato or corn starch dissolved in 1 tablespoon water or wine or water.
Whisk in the remaining 2 tablespoons butter. Do not boil the sauce beyond this point.
Slice the meat and arrange on a platter.
Spoon some of the sauce over the sliced meat and pass the rest in a sauceboat.
Notes
When making a wild boar it is important to marinate the meat for a few hours. Marinating using wine, vinegar based dressings or apple juice tenderizes the meat and makes it delicious.
Courses Dinner
Recipe by Cooking Buffalo at https://cooking-buffalo.com/wild-boar-roast-wine-cognac/