Cooking Buffalo Steaks for the Best Flavour
Many customers ask for directions to cooking bison steaks, roasts and filets. Keep reading below to learn the different ways you can cook the various cuts of bison steak. The first rule is to not over-cook the meat.  Our all natural bison meat is lean and tasty, and is best enjoyed cooked medium rare or a little less. Even if you normally prefer your steak medium, go for medium-rare with your bison, you will be amazed by the same wild and natural flavour that has been enjoyed for many thousands of years.
Bison Steak – Backyard BBQ & Stovetop Recipes
All Natural Award Winning Buffalo Meat from Sayersbrook Bison Ranch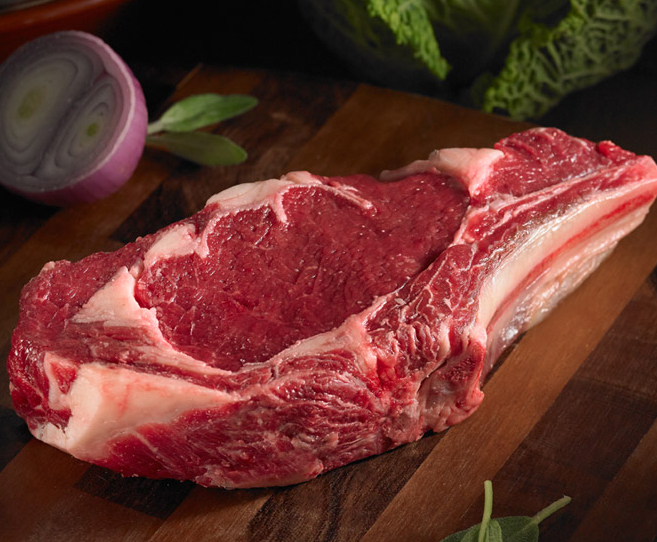 Steak – a traditional favourite for North Americans. Who can resist the wonderful smells of weekend BBQs wafting through the air. But today's trend is towards health conscious food choices, and beef and pork with their high cholesterol content are off the menu for many.
Thankfully there is a healthy alternative, and it's bison meat.
Buffalo has much less cholesterol than beef while keeping the taste that red meat eaters love. That's why bison is gaining in popularity. Within the past 10 years, it's found it's way into restaurants and increasingly enjoyed by home chefs. Sayersbrook supplies bison meat online, and we have superb cuts of steak.
Since 1976 Sayersbrook bison has used all natural methods used to develop our flavorful bison meat.  The meat contains no growth hormones and no antibiotics or steroids. There are no additives or fillers used. NO artificial ingredients of any kind ever.
This article will provide you with some recipe ideas for steaks and information on the correct temperatures to use when cooking and barbecuing.
Cooking Bison Steaks Indoors – How to prepare on the stove in a hot skillet.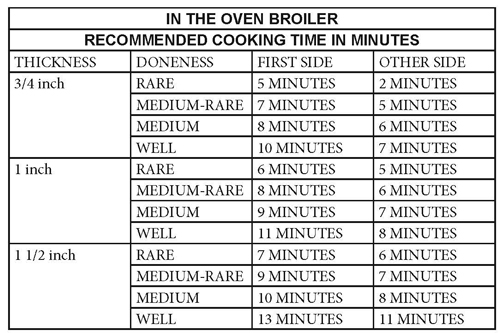 Preparing bison steaks to fry is very easy. Before cooking remove the steaks from the fridge and let them sit for about an hour at room temperature. Just remember that they need less cooking time than beef because they are very lean. When frying up bison steak, watch the minutes. Better yet, use a timer. A rare to medium-rare cooked meat is delicious, succulent and juicy. A well done steak is not!
If you follow these easy directions you will have a perfect steak every time. Heat oil in a skillet over medium-high heat for a few minutes, See the chart for exact time for each size and cut of meat. Once you have fried the meat for the allotted time. Remove to a plate and let it rest for a few minutes. The steak continues to cook during this time. It is important to let it sit for at least 5 minutes. Then…eat!
Follow the cooking times depending on your steaks thickness.
Preparing steak in the oven.
Preheat the oven to 500°F. Let them sit for about an hour at room temperature. After preparing the meat for cooking, put it in a roasting pan and roast the meat. Check the time chart for oven cooking. Browse through the many recipes on the Sayersbrook Bison website. Cooking time is also affected by the amount of fat and connective tissue of the chosen cut of steak. Bone-in or bone-out is also a factor. Again, this is why bison needs less cooking time than a fattier cut of meat such as beef or pork.
How to grill bison steak on a barbecue.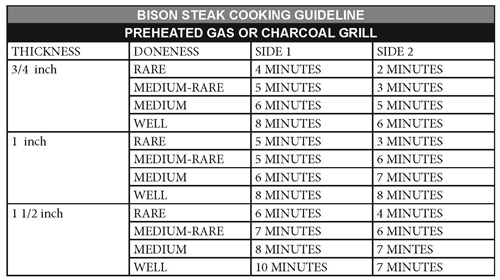 Bison steaks taste best when grilled to rare or medium (still pink in the centre) so avoid overcooking. This meat is high in iron, giving it a great taste but over-cooking will make it taste like liver and you don't want that.
The expert butchers at Sayersbrook Bison take great care to uniformly  cut the meat, allowing the steak to cook more evenly. 
Remove the steaks from the fridge one hour before barbecuing.
The best way to barbecue a bison steak is a simply as possible – sea salt and ground pepper with a spray of olive oil and voila you have a masterpiece. Even pepper is optional. For charcoal barbecuing, use briquettes  arranging  them on one side of the grill. there should be no direct charcoal heat coming from the other side of the BBQ. When the coals are covered in a grey ash, the steaks are ready for grilling.
For a gas grill: preheat one side of the gas barbecue on high heat for at least 15 minutes. It has to be hot 475° – 500°F. It's easier to get the heat from a charcoal grill but many of us like the convenience of the gas grill. Brush the grill grate with oil. Once the steaks are cooked let them rest for 5 minutes. The steak continues to cook after it is removed from the heat so consider this when grilling for a rare steak.
TIP! Using a fork to turn the steaks punctures the meat, Use tongs or a spatula instead
Bison Steak Cuts
The BEST  bison steak cuts best for grilling  include:
The Bison Strip Loin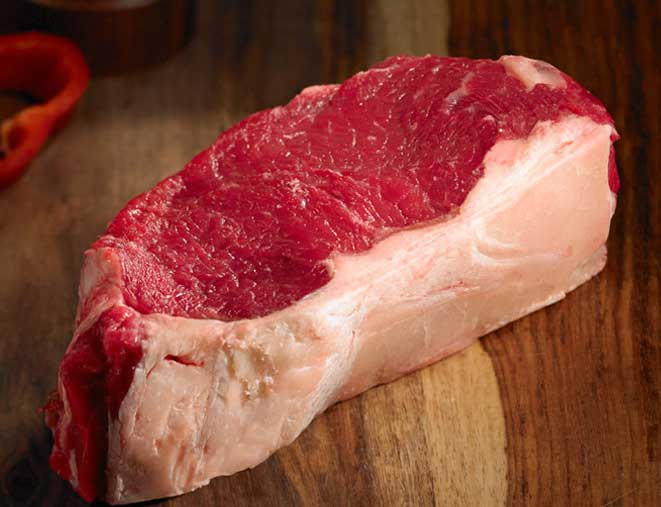 A strip steak without the bone is called a "New York Strip Steak". When a bone is left attached to the strip, it is either called a "Bone-in New York" or sometimes a "Kansas City Strip. Mostly the strip is known by its most popular name of New York Strip. But sometimes it's simply called a Strip Steak. In other parts of the world it is sometimes called a Strip Loin or Shell Steak. It is a tasty option to the rib eye steak which has significantly more fat content. The strip is prized for its fine texture and buttery flavour. It is moderately tender and has good fat marbling.
The Buffalo Rib Eye
This is a delicious cut of bison meat, Cut from the area next to the prime rib making it very tender and giving it a wonderful flavour.  A great grilling favourite due to the marbling. The extra fat tends to melt off during cooking leaving just juicy meat behind. 
Bison Filet Mignon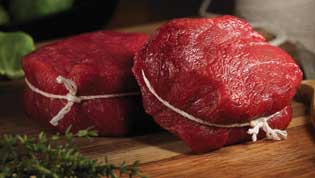 No prep needed for our thick premium succulent filets. Ultra tender, very lean. Just a bit of salt and pepper and grill! The tenderloin filet which is where the filet mignon comes from extends to the short loin. A tenderloin filet is a long tubular shape which is thicker on one end.
 Top Sirloin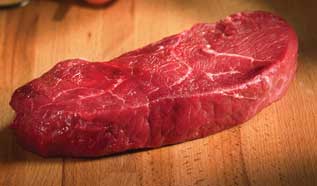 Great for grilling broiling or simmering in a stew, any way you make it you will be please every time. It's boneless, low in cholesterol . Sure to please.
T-Bone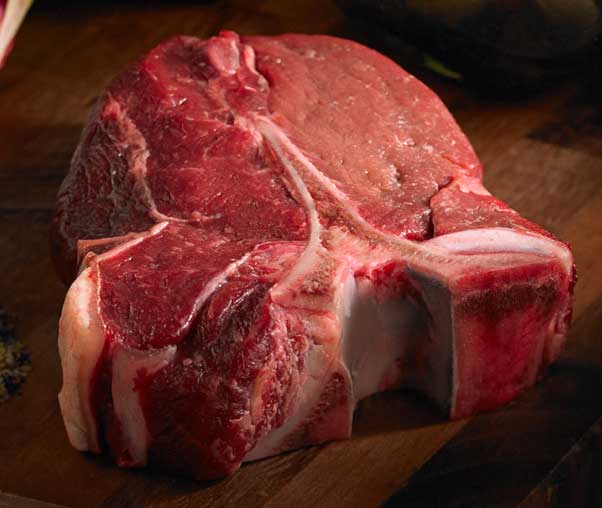 On one side of the bone is a strip steak. On the other is a piece of tenderloin filet. So there are two different cuts of steak in a T-bone making it two steaks in one.
The Strip is harvested from the  "short loin" section of a beef. The tenderloin section extends into the short loin. That's why the T-bone cut has both a strip steak and a piece of tenderloin filet
The T-bone steak gets its name because it has a bone that is shaped like a "T". On one side of the bone is a strip steak. On the other is a piece of tenderloin filet. Hence, the T-bone is really two steaks in one.
The Strip is harvested from the  "short loin" section of  a bison. The tenderloin section extends into the short loin. That's why the T-bone cut has both a strip steak and a piece of tenderloin filet.
Porterhouse Steak – The King of the Bison T-Bones
There is just a small difference between a T-bone and a Porterhouse steak. They are both cut from the short loin section and therefore are superior cuts of meat.  This cut comes from the rear end of the short loin and contains a larger portion of filet. While the T-bone is cut from the front end of the short loin which is the smaller filet.
A porterhouse must be at least 1 1/4 " thick and the filet on the T-Bone must be 1.2" thick. Any filet over 11/4 " thick is a porterhouse.
How to Order Sayersbrook Bison Meat Online
Sayersbrook has added many cuts of bison meat. If you have never tasted bison perhaps you would like to order one of our sampler packs.  They contain a variety of cuts of meat. Take a taste of different cuts and decide which you like the best.
Ordering bison is an easy process. Log into Sayersbrook online store and choose which meat and the quantity. After you have made your choices, click on checkout you will be diverted to payment.  Choose your method of payment. We have a large variety of credit card options as well as Paypal. Our online checkout has the outmost security. We have full SSL certification. Your credit card is never kept on file.
You also have the option to register an account with Sayersbrook with a login and password for easier purchases in the future but this is optional.
Opt in to our Newsletter for an additional $10.00 Off on your first order. Signing up to the newsletter gives you advance notice of upcoming sales as well as specials for which only subscribers can benefit from. We hate spam as much as you do and we will never give out your email address.
What happens when you place an order with Us:
After making your order – you will receive and email with your order confirmation.
The cuts of meat are prepared at our state of the art, certified facility and meet all American standards.
The meat is frozen, packaged in a sturdy cooler and packed with lots of dry ice.
A tracking number is sent, so they can track their package online