Buffritos are a play on Buffalo and Tortillas. A great way to use up leftover pot roast for an enjoyable next day meal
Stock your pantry with ingredients that you can use to whip up a quick meal. A can of refried beans, canned cooked tomatoes, tortillas, green chilies. Guacamole is really easy to make from a ripened avocado, some chopped cucumber, tomatoes, onions and a bit of mayonnaise.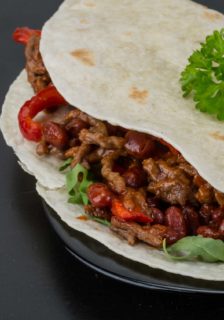 Print
Buffritos
Ingredients
Bison roast, cooked tomatoes
1 can refried beans sour cream
Flour tortillas guacamole
Cheese green chilies
Lettuce
Instructions
Prepare roast according to Bison Pot Roast recipe.
Shred or cube the cooked Bison roast.
In a large pan add meat and refried beans; cook at medium until heated.
Fill flour tortilla and roll.
Smother with other toppings and enjoy.